Anne Frank: Hope and Remembrance
Wednesday, June 12 | 7:00pm - 8:30pm
Rodef Shalom | Pittsburgh, PA
Event Details
Anne Frank: Hope and Remembrance
Pittsburgh Girls Chamber Choir is thrilled to honor Anne Frank on her 90th birthday.  Our featured  work will be "Anne Frank: A Living Voice" by Linda Tutas Haugen.  This profound work is composed for the voices of young women  and string quartet.  The text for this powerful eight movement work is taken directly from the Diary of Anne Frank.
This central work will be enveloped by music featuring women poets who, like Anne Frank, found beauty in spite of pain and darkness. Other poets include Helen Keller, Malala, Emily Dickinson and Sara Teasdale.
The concert will end with a Hebrew Rounds by Nancy Grundahl.  This favorite work of PGC beautifully weaves three rounds including  Shalom Havarim, Lo Yissa Goy and Henay Ma Tov to create a tapestry of hope and peace.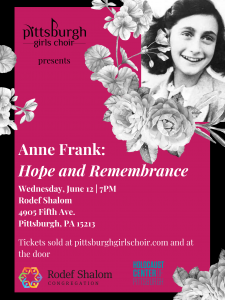 Location
Rodef Shalom
4905 Fifth Ave
Pittsburgh, PA 15213