Group Auditions
Tuesday, September 4 | 6:00pm - 7:30pm
Shadyside Presbyterian Church | Pittsburgh, PA
Event Details
Auditions can be scary, but they don't have to be! At Pittsburgh Girls Choir, we believe that everyone can learn to sing, and our group audition process is a way for teachers to learn which of our choirs would be the best fit for new singers! First and second grade students do not need to audition; they will be placed in Melodia. Students in third through eighth grade are invited to a group audition process to determine best placement. The first part of the group audition will be a vocal warm-up and then choristers will be split by age to learn a piece of music. Students will be introduced to age-appropriate melodic and rhythmic reading concepts and be evaluated on musical and behavioral preparedness for choir. Our Kodaly-based (read: folk-song and musical games based) sequence helps students to learn musical concepts and read music in a fun, natural, and holistic way; so parents of young children need not fear that their student can't sit for a whole rehearsal. Don't worry – they definitely won't be sitting for a whole rehearsal!
While this is happening, parents will receive information on how to participate in Pittsburgh Girls Choir's programs, and what to expect when your chorister joins. We hope you can join us for this informative group audition process, to meet our teachers and singers, and start your way to singing in a girl-friendly environment!
To sign up for the group audition on September 4, please fill out the audition form here.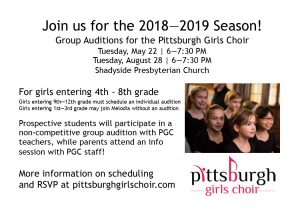 Location
Shadyside Presbyterian Church
5121 Westminster Pl
Pittsburgh, PA 15232